Blessed is the season which engages the entire world in the conspiracy of love.
The festive season is here, and with the festive season comes the great chances to gain weight. Be it Dusherra, Diwali, Christmas, or New year – It is time to get together with friends and family, and probably you will witness most of the social gathering than any other time. The get together during the festive season involves eating and drinking, and sometimes you consume more unhealthy stuff.
Most of the menu items are unhealthy, and if consumed in large quantities, it can cause weight gain. The same goes for the alcohol, too; you're likely to drink more, contributing to the calorie requirements.
Is it wrong to enjoy those special festival dishes?
Please don't put yourself under pressure, and remember that it is acceptable to enjoy the festive season and your special dishes. There's no compulsion to stick to your usual diet. It's a great time to enjoy with friends and families. It can get a little difficult to lose weight during that time, but you can maintain it through small efforts. There are realistic tips you can follow and enjoy the festive season without any guilt.
Let's see some realistic tips to relish the festive season:
Oh! There's a party this weekend. I will avoid having anything before going there so that I can enjoy all my favorite food without any guilt. 😛 😀
All of us have said this or at least have heard such statements from our friends or relatives. 😛 But there's a trap!
Avoid Fasting before the celebration: This is the biggest and the most common blunder one can make before heading for the party. When you go empty stomach, you are more likely to overeat and make poor choices. An empty stomach can cause many other problems also. You may think that you're saving calories for the party, but it is more damaging as you'll go for anything without thinking twice. So, have something healthy before leaving for a party like a fruit bowl, dry fruits, salad, or a protein bar. Anything rich in fiber can help you curb your appetite and will help you prevent cravings.
I don't get time to exercise; I am busy with the preparation, there's a lot of work, I'm tired, blah blah blah. 😛
Get moving: We're always ready to justify our actions, and most of the time, it's our body that suffers. A quick, energetic workout session is all you need. It will lift your mood, boost energy, and will help you in balancing those extra calories. Just 15-30 minutes of workout will be useful.
I can't resist dessert, and that's the only thing I look for at parties. 😛
Fruity dessert affair: For some, it is difficult to say no to desserts, but you can choose your dessert wisely. "Added sugar" in dessert will add empty calories, so fruit-based dessert is a healthier option.
Sharing is caring, and this fits when it comes to food. It is not only good for you but also for the other person. 😀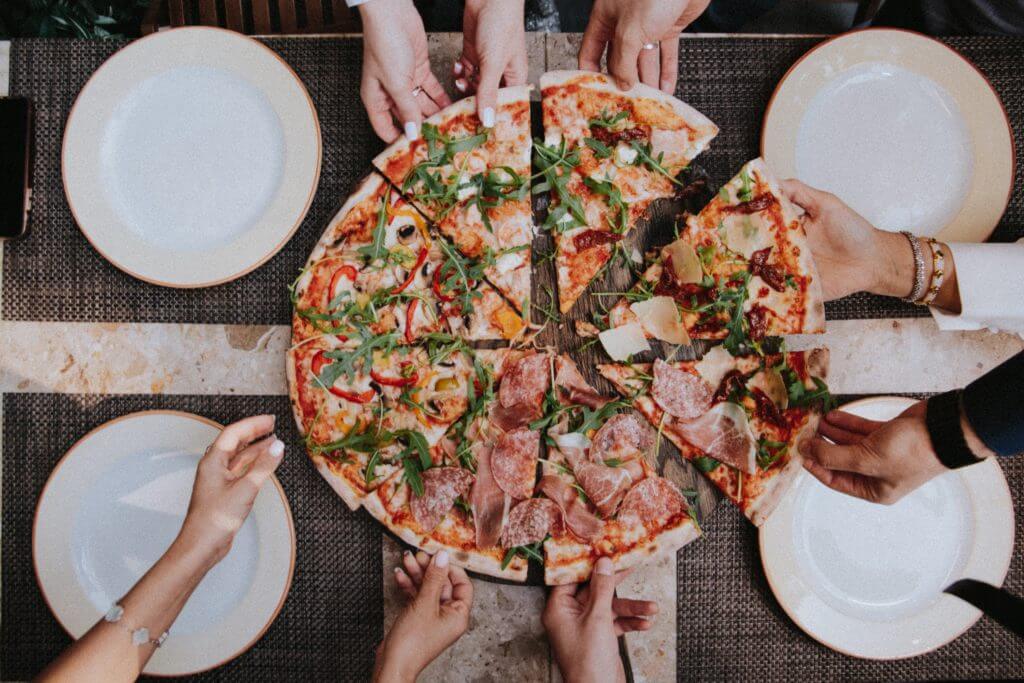 Please share it: Festive season is all about get-togethers with friends and relatives. So, why don't we eat in sharing? Sharing food will enhance your quality time with closed ones, and you'll eat less. So, please share it and avoid extra calories.
Control the portion size: If you can control the portion size, you can manage your festive season easily without any guilt. Portion control is essential in losing weight, gaining weight, and even maintaining weight. So, control the portion size and enjoy your favorite dishes.
Drink some water and stay hydrated!
Sip it: The most neglected drink during the festive season is water because we're probably busy drinking other non-alcoholic beverages that contribute lots of sugar and empty calories.
Control calories from sauces: Most of the time, we ignore the calories from those tempting sauces. We are likely to lose control while having them because it is challenging to keep their calorie check. So, we end up ignoring their calories, but this doesn't mean that they have none. Dipping sauces are full of added sugar, sodium, and fat, making them high in calories. They can quickly turn your healthy dishes into unhealthy ones. Instead, give them some citrus touch with lemon, or add herbs and spices.
Are you stuffed or satisfied? – Ask yourself before going for the next plate.
Hara Hachi Bu: You should apply this rule every day while having breakfast, lunch, or dinner. The rule says that- stop eating when you're 80% full. You can't know precisely when you're 80% full, but you learn this with practice. Eat slowly and let your mind catch up with your stomach. Or else you'll end up overeating.
I'll have a bite of this and then that. This way, I will end up tasting all the dishes. 😛 😀
Survey the buffet: This method of eating this and that, and whatever comes the way, may sound great as you'll end up tasting everything in the buffet. But, you'll end up overeating because you'll not realize how much you're putting inside. Survey the buffet and shortlist your favorite dishes. 😛
Celebrate the season with a good drink and lots of laughs. 🙂
Take it slow: It isn't easy to keep account of calories from sweetened beverages or alcohol. So, you have to be careful while consuming them, as it is easy to have them in excess, which can further lead to weight gain. Take some time to refill the glass and drink slowly.
Follow these tips and set realistic goals. Enjoy the festive season with your loved ones. 🙂
Lots of love to you and your family. 🙂