We have plenty of options to choose from for our overall health and wellbeing. But, it's not only yoga for weight loss, but for many other exciting reasons. Yoga is from the Sanskrit root 'Yuj' means to join or to unite. In yogic sacred texts, the act of Yoga prompts the association of individual cognizance with that of the Universal Consciousness, showing an ideal concordance between the brain and body, Man and Nature. Also, this practice originated in India and was first mentioned in Rigveda. Sounds great, right?
Most of us focus on other workout forms like weight training, Zumba, pilate, etc forgetting about the benefits that yoga has to offer. Though, one should always choose their favorite workouts to maintain a healthy lifestyle. But, practicing yoga a few days a week could be beneficial for both physical and mental health.
Pandemic has taught us so many lessons and has bought our attention to overall wellbeing once again. The best part about yoga is that you can practice it anywhere, anytime with a yoga mat only. There are plenty of benefits that yoga has to offer, let's dig deeper to know more about them.
Why should you include yoga in your routine?
Do it for flexibility: Flexibility is crucial for physical fitness and also offers other health benefits. It can help you improve posture, muscle coordination, and mobility. So, be it mild or high intensity, yoga could help you boost flexibility. Flexibility reduces with age, so yoga could be the best way to slow down the loss and increase flexibility in older adults.
Increase your strength: All of us are aware of the benefits of strength training. It helps in increasing strength. Yoga also includes bodyweight exercises and thus can help you increase overall strength. So, don't worry if you don't like weights your body weight is enough to gain some strength.
Improves balance: Balance reminds all of us of our favorite tree pose, but it is not limited to that. Balance is important for overall body stability and prevents that imbalance from falling too. A healthy balanced body posture is a lot more crucial for the elderly or anyone suffering from joint pain or any other weakness.
Better posture: A better sitting or standing posture not only improves your overall look or personality but, also keeps your body healthy by improving blood circulation. With the increasing use of technology, many of us spend our days slouching or sitting on a couch. 😛 Yoga promotes better posture as it also enhances strength and flexibility.
Boosts mental health: Mental health issues are getting common nowadays, especially after the pandemic. Yoga does the same role for the mind as weights do for your body. It will improve your mood and make your mind sharper. Research shows that yoga helps reduce anxiety and depression. So, grab your mat now and improve your mental health with yoga.
Sleep like a baby: A bad sleep is a sure-shot way to start a bad day. Yes, you heard it right. Bad sleep can ruin your day. Over 55% of yoga practitioners reported an improvement in their quality of sleep. Yoga calms your mind and body and thus helps you get a sound sleep.
Keep your heart healthy: Exercises that increase the heart rate are the best ones for a healthy heart but don't underestimate the power of yoga. Yoga improves cardiovascular health and helps manage weight-related issues too.
Helps with burnout: Burnout is an emotional, physical, or mental exhaustion caused due to excessive stress. Research shows that yoga-based meditation interventions can help to combat burnout.
Yoga for weight loss: Yoga can help you lose and manage weight. As yoga involves bodyweight exercises, it can help you burn some calories and tone your body. Grab your mat and sweat it out.
Yoga for wellbeing: Yoga has plenty of benefits for the mind and body, which makes it a right fit for physical and mental health. Regular yoga practice improves an overall life of a person, creates clarity and calmness, and relaxes the mind. Thus, yoga is a perfect solution for all your physical and mental health issues.
Sounds interesting, right? All these benefits might encourage you to start your journey towards a healthy lifestyle. Here's an app that could help you begin your journey.
Yog4Lyf: The yoga app made for everyone
An amazing app that can help you start your beautiful journey and experience these benefits and much more.
Exciting yoga courses at Yog4Lyf App: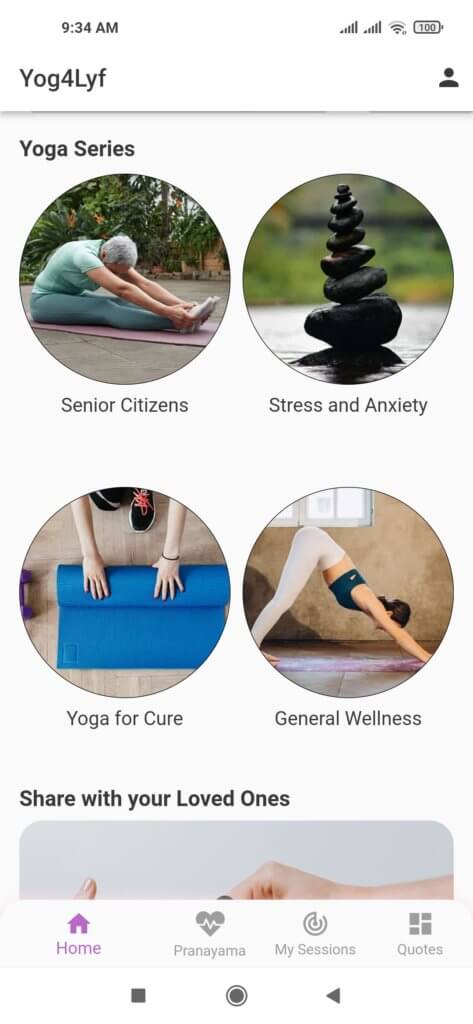 Face Yoga: Tone and tighten your face just like you do your body. The face yoga feature on the Yog4Lyf app will help you trim down the extra blob from your face and get that gorgeous glow you've been looking for. The app consists of easy yoga poses, and the short duration makes it the best for a quick touch-up.
Weight loss yoga series: There are plenty of benefits that Yoga has for our physical fitness and weight loss is one of them. So, this exciting feature of the yoga for weight loss series is specially made around yoga poses and yoga sequences which will turn the heat up in your body, helping you burn those excess calories.
Yoga for thyroid: Researchers have shown that yoga can bring down the stress levels that indirectly affect the thyroid gland and its secretion. There are yoga exercises for both the forms of the thyroid that is hypothyroidism and hyperthyroidism. Yog4Lyf app has created a yoga series that offers easy & gentle yoga poses to massage thyroid glands to make you feel more energized and healthy from the inside.
For senior citizens: There are plenty of benefits that yoga has to offer, like, strong bones, improved strength, flexibility, mobility, and sleeping habits, to name a few. There are tons of different exercises to choose from, which might make it challenging to select the best fit. So, Yog4Lyf has a series of yoga practices that are specially made for the senior members of society in a therapeutic way to massage the muscles of the body, helping them promote a healthier lifestyle.
For stress and anxiety: Yoga improves physical and mental health and thus promotes overall wellbeing. The research shows that 74 percent of women and 80 percent of men live under stress because of excess workload. Yog4Lyf will make this task easier for you through its series that is made specially to tackle modern-day to day stress & Anxiety. Practice Yoga Nidra sessions which are highly effective to help you calm down and release negative thoughts.
Yoga for constipation: Yoga is beneficial for regular and healthy bowel movements. The app offers a special yoga course that addresses all the digestive problems that one faces and also strengthens the abdominal organs. Yog4Lyf will make this task easier for you by providing these yoga exercises in one place.
Yoga for back pain: Back pain is getting common nowadays due to reasons like improper sitting postures, heavy lifting, and sudden awkward movements to name a few. Yog4Lyf offers a 15 days yoga course that will ease out the stiffness trapped by massaging parts of your back and help you feel relaxed. So, improve your posture and mobility and get rid of that back pain.
20 minutes of power yoga: "I don't have time for a workout." This is probably the most common excuse you'll hear. Yog4Lyf will solve this issue by providing 20 minutes of power yoga. The yoga session will fit into your tight schedule and will help you sweat the toxins out of your body. So, give no more excuses and grab your yoga mat. Get fit with Yog4Lyf.
Yog4Lyf offers special yoga series for good sleep, hypertension, and immunity too. You can also join their Facebook group where you can ask questions and get some amazing health tips.
Meet their expert trainers:
Arsh Rai: Arsh developed a keen interest in yoga from an early stage of life and has been practicing it since then. Later, he decided to give yoga his body, mind, and soul by pursuing it as a career.
Geetika Saxena: Geetika strongly believes that yoga is meant for everyone and the benefits it shares should be put to good use. Since then there's no stopping her.
Rahul Singh: Rahul being a resident of Varanasi has been practicing yoga from a very early age and as time progressed he decided to give his heart and soul to the practice and started moving forward in his life as a professional yoga expert.
Yog4Lyf is a one-stop solution for all your health-related issues and is proof that yoga can solve many health-related issues.
The app is available at the play store. Download now and have a happy healthy life. Also, avail special discount on all your purchases using my referral link: https://beginneryoga.page.link/8noE