Indian food is known for its spices, flavor, aroma, and whatnot. From east to west and north to south, Indian food is widely known for its great diversity. One can find a change in taste and spices every few km, and You can cook a single dish like- rice in many different ways giving them different flavors. Traditional Indian food is not only healthy and tasty but has lots of health benefits too. But, lately, it is criticized for being unhealṭhy because it has high sugar and high-carb content. However, this is not true because by changing a cooking method, you can change its nutritional values to some extent and turn them into a healthier dish. Let's look out for the reasons why is Indian food healthy and unhealthy?
Facts about our Indian Food:
Rich in spices:

Our Indian food is rich in spices and has many health benefits. Cinnamon lowers blood sugar levels, turmeric to fight inflammation, ginger to relieve nausea, garlic to boost heart health, cloves to treat tooth problems, cumin, and black cardamom to deal with digestive issues. Pick any of them to solve your health-related issues. These colorful spices aren't only good for health but also magnify the flavor of food. So, Indian spices can make Indian food super healthy and tasty.

Variety of cooking oils:

Cooking oils can significantly change the taste and nutritional value of the food. So, the variety of cooking oils provides an excellent opportunity to choose from, depending on our preferences and health. Fats are not evil, make sure you use them wisely. There is coconut oil, groundnut oil, mustard oil, ghee, peanut oil, sesame oil, gingelly oil, til-oil, etc. So, choose these flavor enhancers according to your preferences. Though, the processing can bring a considerable change in their nutritional value. Earlier, the way they were processed was much healthier than they are processed today.

Salt variety:

Add some salt, according to your taste. Even the most common ingredient in the food is available in diverse forms in India. Black salt, pink salt, and rock salt were native to India. Gradually, we moved on to processed salt, and this change reduced the nutritional value of our food. So, if you can use any of them in cooking, swap the processed ones and enjoy the benefits.

Lots of grains:

We have some of the most healthy grains that can be a part of our diet and help us stay fit and healthy. Some of the most nutritious grains include- Amaranth, bajra or pearl millet, ragi or finger millet, kuttu or buckwheat, barley or jau, maize, jowar or sorghum, sabudana or pearl sago, broken wheat or Dalia, etc. These whole grains are a great source of protein, carbohydrates, vitamins, minerals, and fiber. Indian food has them as flour, bread, or cereal. Pick any of them, and you'll find the fantastic health benefits attached to them. The Indian food from east to west and north to south has almost all of them in their traditional dishes. Include these flavor and health boosters in your diet.

Pulses:

India is the largest producer, consumer, and importer of pulses in the world. Also, this data indicates the importance of pulses in the Indian diet. Pulses being a great source of protein, carbs, and dietary fiber, are a staple food for most Indians. The low-fat content and a good amount of dietary fiber can help maintain weight and reduce the risk of cardiovascular diseases. Chickpeas, black-gram, green-gram, peas, lentils, etc., are some of the nutritious pulses that are part of Indian food. They are not only delicious but have many exceptional health benefits attached to each them.

Indian Pickles and chutneys:

Make them with the right amount of salt and oil, and a pickle will enhance your meal's flavor and health benefits. They are a good source of antioxidants, vitamins, and minerals, and they also improve immunity and digestion. Have it with your meal and get the benefits. Be careful about the salt and oil content because they both can create health problems. Also, Indian food is incomplete without chutneys. Chutneys are made with ground leafy greens that are super healthy and refreshing. Try making it yourself.
Use of dairy products: Few Indian dishes have yogurt or other dairy products in them. The use of fermented milk in Indian food helps to keep the digestive tract healthy. With lots of calcium present in them, they help in getting healthier bones and improve overall fitness.

Indian curry

: Indian curries become super healthy if you cook them with the right amount of spices, oils, and other ingredients. The Indian curry made with tomato, onion, garlic, ginger, curry leaves, etc., has many health benefits. Cook them right and according to your taste and preferences.
How to enjoy your food?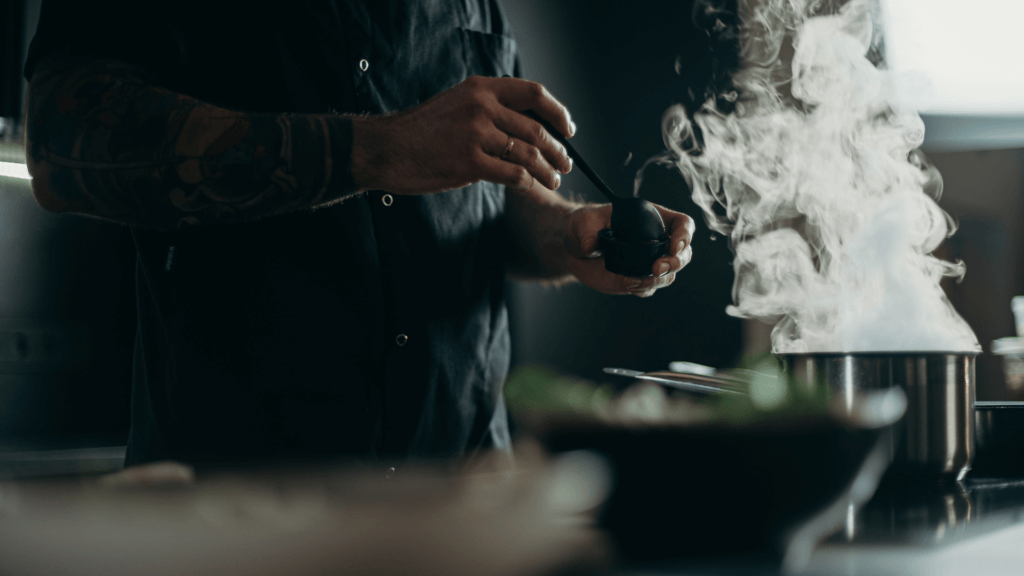 Designating something as unhealthy or healthy depends on our cooking methods. We can change the nutritional value of our food and turn them more beneficial.
How you cook something largely determines the nutritional value and the health benefits of the food. You can turn any of your dishes into a healthy Indian dish if you use the right ingredients.
Control the number of spices and oil you're adding, as most of the time, they are the ones to be blamed. Controlling them is in your hand, so do that carefully.
The Indian food you consume in restaurants or on special occasions uses more oil, spices, and food color(sometimes) to make them look tempting and cook them quickly and enhance their taste. People often refer to them as hot, oily, spicy, fatty, etc. Thus, the food you get in those restaurants is high in calories, and their health benefits are also less in comparison to traditional Indian food.
Cuisines all over the world are contributing to human needs. It's how we cook and our portion size that largely determines a particular food's health benefits. Respect the food on your plate and cook them right according to your health requirements.
Also, check out our cooking tips to increase the health benefits of your favorite food. So, cut calories and not flavors. 🙂
Let's celebrate our Indian food!