A food journal is a daily log of what you eat or drink throughout the day. It involves jotting down everything you consume and is probably the best tool to practice mindful eating.
All of us keep a record of important stuff like important office or college work, a to-do list, etc. And, some even maintain a diary or a journal to write their personal experiences. We do all of this to track and reflect.
Keeping a food journal might sound boring, but it is the easiest thing you could do for your health. You can practice this in a small diary, paper or a notebook which you can easily carry. And, you can even log these details in an app. Many apps can help you track your food and water intake. Use tech!
Mindless snacking habits or emotional eating can increase your calorie intake. Both these habits have the potential to increase weight.
Reasons for why you should keep a food journal: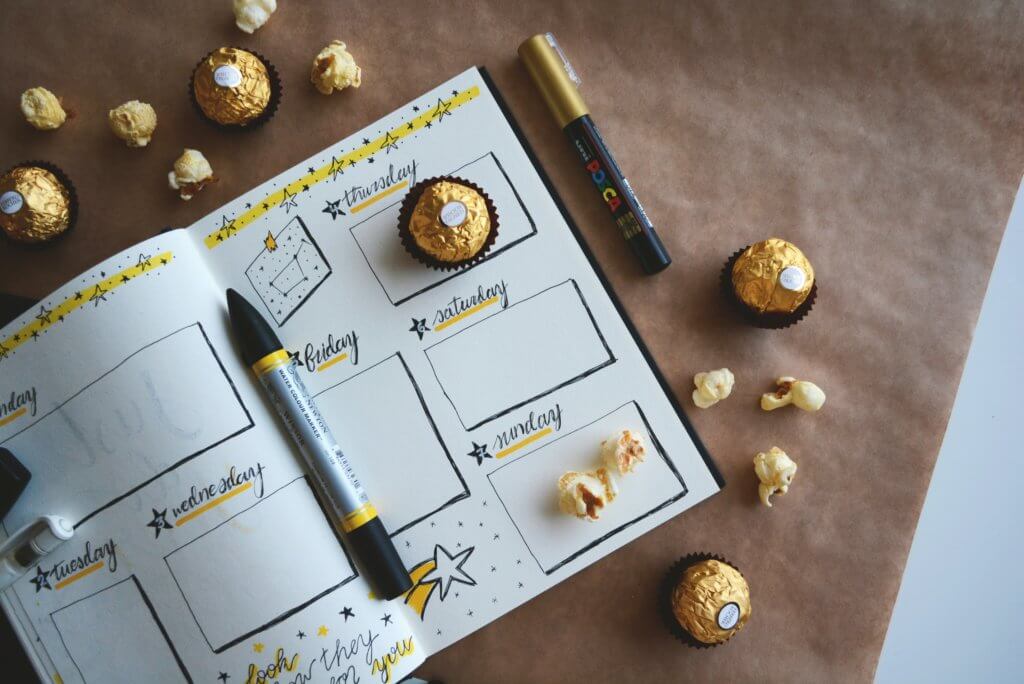 The sole purpose of maintaining a food journal is not to lose weight but is to build healthy eating habits.
Disease prevention: Keeping a food journal gives you an idea of what you're consuming. And, when you write it down, your doctor can access it for a better understanding of your health. The majority of health problems arise from unhealthy eating habits. So, keeping track might help you prevent the problem. And, can also help your doctor in diagnosis and treatment. This practice can even help in determining nutrient deficiencies if there are any.
Track your calorie intake: Weight loss or weight gain, both require you to keep an estimate of your calorie intake. Keeping a food journal makes this task easy, by helping you track your eating habits. And, this helps if you believe that you're doing everything to lose weight, but results aren't showing. The tiny details in a journal can give you an answer. This practice will also help you maintain weight.
Monitor your diet plan: We often frame a diet plan or ask our dietician or a doctor for it. A food journal can help you track your diet plan. And, this will help your dietician or a doctor to know about you. Moreover, you can mention the food that keeps you full or increases your chances of craving. Proper monitoring can help you frame a diet plan based on your taste, preferences, calorie requirement, nutrient deficiencies, etc.
Food intolerance: Not everything we consume will have a positive impact on our bodies or emotions. Some people are intolerant to specific food groups. So, having a journal can make this task of identifying intolerance easy. Mention how you feel, for example, bloated, nauseous, etc. And, you'll find how your body reacts.
Track nutrient intake: Proteins, carbohydrates, fats, minerals, vitamins, fiber, water, all these seven are the main classes of nutrients that our body requires. Most of us might end up ignoring some of these nutrients in our diet. A balanced need is a blend of all seven of them. Tracking your food will help you check if your nutrient intake is sufficient. And, what needs to be added or excluded.
Will help you reduce craving: Weight loss diet plans fail when we rely too much on shortcuts like crash diets. And, these diets can trigger unhealthy eating patterns and increase cravings. Have a food journal and mention when you wanted to have something sweet or junk. Tracking these habits will create a psychological impact as well.
Some may argue that food journaling can have negative impacts, and that is true.
Here's how you can deal with it:
Getting addicted: Don't get too addicted to the food journal. These journals are there to keep track of what you eat throughout the day. But, if you start panicking over all the minute details then it might harm your mental health. So, stay calm, keep track but don't get too attached. You are free to do mistakes and learn.
Difficulty in entry details: You might find it difficult to enter the exact amount of food you have consumed and calories. Also, calories in your drinks(except water) should be included which is sometimes challenging. Go for rough estimates and try to use them as a guide.
Social stigma: You might feel embarrassed to ask for any details about food if you're eating outside or at your friend's place. One can always have approximate values. Come back home and add the details.
Food is meant to be enjoyed. There's nothing wrong with having what you love. A food journal can play a significant role in your health journey. Stay calm, and you'll learn with practice.