There's a sense of pride in every " No pain, No gain" statement. And, it is often used by many gym-goers. All of us have heard this statement and have often used it, as well. But, is it a reality or a myth?
A good workout session is indeed the best thing you do for your physical and mental health. And, the regular workout will give you a strong body and a healthy weight. It is a well-established fact and, no one will deny it. But, then how it turns out to be problematic?
All of us have experienced pain to some extent- some might experience less and some more. But, how much is good? How do you differentiate between good pain and bad pain? Is it a reality or a myth?
A Saga behind "No pain, No Gain"
Relation between exercise and pain:
So, this is your first workout and, you're all set to give your best. And, you're waiting to try various exercises and, you're probably ready to put your entire energy. There will be a little discomfort as you're doing something new. Your muscles are ready to feel the burn.
Lactic acid: The guy who is responsible for your pain is lactic acid. A burning sensation that we feel in our muscles mostly goes away as we stop performing the exercise is because of lactic acid. And, this lactic acid is temporary and, is due to intense exercise.
The harder you train, the more the build-up of lactic acid.
2. Delayed onset muscle soreness:
The soreness that you feel after your exercise. It might happen a few hours later and, is considered fine. But, it should ease off after few days. Soreness for a longer time suggests that there's something wrong. And, in such case, one should avoid working out for somedays and visit doctor, if it increases further.
What's a good pain?
The most important thing is that people realize what the pain stands for in " no pain, no gain" and often end up doing more than they actually could.
When you start working out, you're putting your body to work. And, this means that you'll experience little pain while working out. If you're the new bee who just started their new workout routine, then you might feel some pain in different parts of your body.
Simple logic is when you put strain on your muscles, you'll feel some pain. And, this mild discomfort while exercising is good pain.
What's a bad pain?
There's a thin line between good pain and bad pain. And, this means that your good pain can convert into bad pain very quickly. The bad pain usually happens when there's excessive stress on muscles, ligaments, tendons, etc.
The pain can arise due to a wrong form while doing an exercise. Most of the people end up lifting more than their actual capacity and end up having pain.
Consult your trainer while doing exercise or whenever you start a new workout routine. And, increase the weight slowly once you gain enough strength.
Then there comes an issue of over-exercising or over-training, which is often faced by gym- enthusiasts. One should know when to stop and take a rest. Rest days aren't bad and, one should never feel that having a rest day will spoil their entire week's progress. They will boost your performance.
A little bit of burn is fine, but if the pain in your joints, chest, etc. starts increasing, then stop immediately.
How to relax muscles after a workout?
It is okay to take rest days, don't get fooled by anyone who tries to tell you that for the real gains, one should train every day.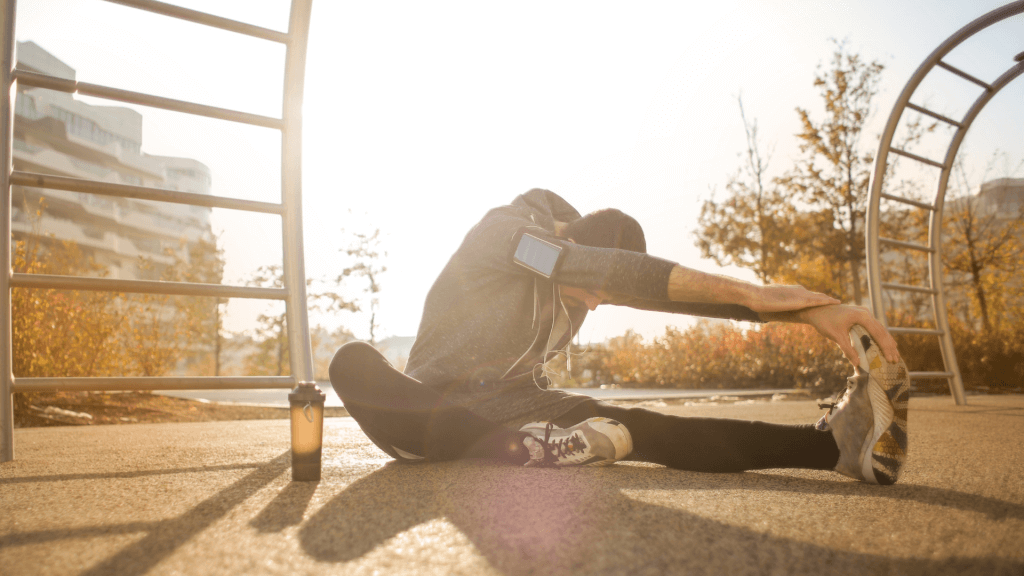 Ice pack: It is super easy to use and, easily available. You can keep one in your refrigerator and, use it to relieve muscle pain. Wrap it using a towel around a sore muscle for 15 minutes. And, this works even if you have swelling.
Stretch before and after: No one can deny its importance. It is always advisable to stretch the muscles you've trained. Stretch your muscles for 10 minutes before and, and after a workout. It is also important to wake up your muscles before putting them to work. 😛
Warm bath: A warm bath after an intense workout can indeed be a blessing for your muscles. It will improve blood circulation and, loosen those tight muscles.
Massages: They can be the next best thing you could do. Massages will help in easing pain and, relaxing your muscles.
Continue with light exercises: Yes, an exercise to remove the soreness because of your intense workout sessions. People usually stop exercising abruptly. There's a way of stopping, and that can help you ease this pain. A light walk or a jog after an intense workout may sound too much. But, a 15- 20 minute light exercise will help you in reducing pain.
Take Away:
There's nothing like " no pain, no gain". Listen to your body, rather than listening to someone who's preaching this idea. Stop when your body signals you to stop. 
Workout is a reward to your body and, not a punishment. So, don't punish it by putting the stress it can't handle. 
No one is a superman in the gym. Everyone starts from somewhere and, gradually builds up their stamina. So, too much stress won't make you a bodybuilder in one day. 
Too much pain and stress will only increase the number of your rest days because eventually, your body will give up. 
A healthy diet will help you get the body you want, don't expect miracles to happen. You won't get it by ignoring your diet. Learn here- How to make a cutomized diet plan.
Building up muscle strength needs time and, patience. So, after setting up a target, don't expect the result the very next day. It's a process, give it time. 
You're giving your best, don't run behind the manta of " No pain, No Gain.