In this world of health and nutrition, we are often advised to eat healthy to maintain good physical and mental health. All of us are well aware that the food we eat creates an impact on our minds and body. The growing obsession with healthy food can sometimes take a wrong turn and result in Orthorexia.
Orthorexia is an unhealthy obsession with healthy food. And it differs from anorexia and bulimia, where people focus on the quantity of food eaten. So, people with Orthorexia are seldom concentrated on losing weight.
There's nothing wrong with eating healthy, but an obsession can create severe problems.
The medical community is starting to recognize Orthorexia, although the Diagnostic and Statistical Manual has not officially established the condition as an eating disorder.
Symptoms of orthorexia:
There are no such symptoms of this disorder, and it isn't easy to distinguish between Orthorexia and a normal preoccupation with healthy eating. Enthusiasm to eat fit turns into Orthorexia only if it negatively impacts everyday life, like extreme weight loss or refusal to eat out with friends.
How to diagnose orthorexia?
People with this disorder have excessive emotional distress over the food choices because of compulsive behaviors.
Self-imposed anxiety occurs when the person breaks the self-imposed dietary rules. And, this results in shame, fear of disease, negative physical sensations, etc. This feeling can get worse with time and can harm mental health.
Severe restrictions can sometimes lead to a complete absence of certain food groups in the diet, leading to malnutrition, weight loss(if you're calorie deficit), or other medical complications. Severe malnutrition can also cause electrolyte and hormonal imbalance, impaired bone health, digestive problems, etc.
Body image, self-worth, identity, or satisfaction can be excessively reliant on the self-imposed dietary rules. And, sometimes, they go for cleansing or fasts after breaking their self-imposed limitations.
They might face personal distress or challenging social life due to their ideas or practices linked to healthy eating. Dinner parties, functions, birthdays, etc., get difficult for them.
Eating an unlimited amount of healthy food is not going to help you, dear! Sorry to burst your bubble!
Is eating healthy a problem now?
No,
Don't forget that moderation is the key, and devouring lots of healthy food will not take you anywhere.
This unhealthy way of eating healthy food can backfire if left untreated. So, if you find yourself suffering from this disorder, consult a multidisciplinary team that includes a doctor, psychologist, and dietician.
Behavior modification, cognitive restructuring, and relaxation training can help you deal with this.
A good education about the food and its nutritional value can help people set the limits and eliminate the other false food beliefs.
Binge eating healthy food can result in weight gain.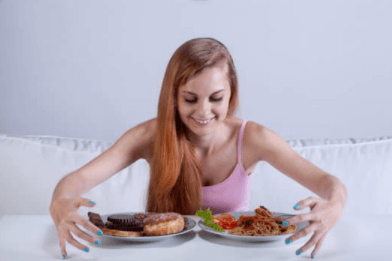 "What ?, No, How healthy eating habits can result in weight gain if I am doing everything right?"
A simple change in the diet to eat more healthy and nutritious food turns problematic if it becomes extreme.
Suppose someone encourages you to eat certain things that are good for your health, and you start including them into your diet (a lot) without thinking twice about the portion size. You're going the wrong way! And you're not going to lose any weight if it was your real purpose behind healthy eating.
Take an example of Dry Fruits:
they are super healthy and packed with nutrients. And, they're a good snack option too. But, if you're eating them in excess, you're likely to gain weight. Don't forget a handful of almonds, have 163 calories, and 100 grams have 576 calories.
So, there are chances to have a calorie surplus if you don't know about the portion size or if you don't balance those excess calories in your next meal.
Binge eating of healthy food is also bad for you.
What is healthy eating?
 Don't overcomplicate things. Healthy eating is not difficult if you're determined to make a lifestyle change. And, if you're doing it for your health and not for a wedding, birthday or a party. 
Don't run behind crash diets, and they will take you nowhere. Most crash diets are restrictive, resulting in malnutrition or other severe health problems. 
Eat what you love and be flexible with your diet. Learn to balance, and there's no harm if you're enjoying a piece of cake at your friend's birthday or having a burger or pizza at the dinner party. But, have it in moderation. Excess is always wrong.
Choose different foods. Deleting an entire food group from your diet is not at all advisable. Try recipes and enjoy what you eat.
Nourish your body with love, and not by starving it from the required nutrients. The food you eat impacts your mood too. 🙂
 Control your portion size. And, it is not difficult. Give yourself some time and learn.
 "Eat until you're 80 percent full." – Hara Hachi Bu is a Japanese phrase that advises how to practice mindful eating and calorie restriction.
Don't forget to love yourself. Social media's growing impact can cause problems if you're obsessed with the models or celebrities there. Be yourself and eat what's right for you and your health. Stay away from orthorexia.:)