May the sweetness and health benefits of jaggery bring the sweetest wishes to you and your family.
Our favorite festive season is here, and all of us know that we can't resist the Indian dessert. We always look for occasions to indulge in favorite Indian sweets even when we know that too much of them can build health problems( make sure you have them in moderation). The festive season is just another reason for all of us to indulge guilt-free and forget about our long-term healthy eating goals.
Be it barfis, jalebi, kheer, or halwa, and there are plenty of Indian sweets that make us guzzle every time we think of them. And we all are familiar with the master ingredients behind the taste that is ghee and lots of sugar and khoya. Nevertheless, how delicious are those desi Indian sweets, but the enormous amount of sugar in them can be unhealthy if consumed in excess. But, you can make those yummy sweets at home and give them your touch. You can substitute some of the ingredients and immediately magnify the health benefits of your beloved desserts.
Our super ingredient here is – Jaggery :
As the jaggery's primary producer, India has been recognized as one of the world's leading traders and exporters. India exported 3,41,155.34 MT of jaggery and confectionery products to the world for the worth of Rs. 1,633.22 crores/ 227.90 USD Millions during the year 2019-20. India generates about 70% of the world's jaggery.
Jaggery is readily available in the markets nearby and can be a healthy sugar substitute. So, why not pick up this and add some flavor and health benefits to our sweets. But, before that, let's scan it a bit and check out the reality.
How is jaggery made?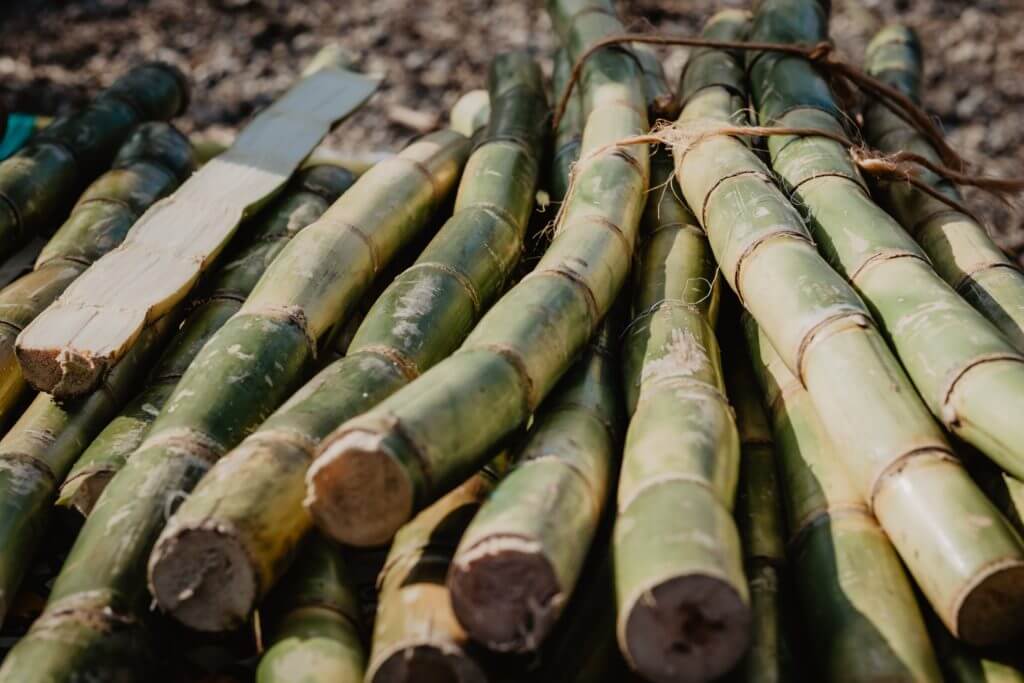 It is produced from sugarcane and toddy palm tree. The process of making all types of jaggery is the same, and only the starting material varies, but you can find slight color variations from golden brown to dark brown. In many cases, it is offwhite, pale-yellowish, or light brown. The color mainly depends on the raw material used, and the slight differences can be due to their formation process. It is also called gud ( gur) or Sharkara( Sarkkara).
The three-step process includes:
Extraction: It is done to get the sweet juice or sap.
Clarification: In this process, the sweet juice or liquid stands still in the container, and we get a clear solution when all the sediments settle at the bottom of the container.
Concentration: This is the last step where the solution is placed in a large container and then set to boiling.
After these three steps, you'll get the jaggery that looks like this :
Types of Jaggery:
Sugarcane jaggery: As the name suggests, this jaggery is obtained from sugar cane and is usually prepared using traditional methods. Their conventional formation process gives them a unique taste and texture.
Palm jaggery: It is a much sweeter variant of jaggery, and the credit goes to dates. 😛 It acquires its nutritional values from dates and melts in the mouth when consumed.
Coconut jaggery: Most commonly found in South Indian delicacies and enhances the flavor of almost every dish when added. Coconut jaggery is sweeter than the other two variants and derives its flavor from coconut sap.
Is jaggery a healthier sugar substitute?
We have often heard that jaggery is more nutritious than sugar, and we can have it without any guilt.
But there's a trap!
Let's check out our beloved 'gur' and it's qualities:
If it sweetens just like sugar, it has the same calories as sugar. 😉
A weight-loss companion? : If you're looking for something that can help you with your sweet cravings at the cost of a few calories. Then, jaggery might not be a better option because 100 gms of jaggery have 383 calories. On the other side, 100 gms of sugar have 387 calories. Thus, the calorie difference between the two isn't that much, and you will get the sweetness at the cost of the same calories. It is fit to enjoy them in moderation. So, jaggery alone won't do wonders.
Processing makes the difference: Though, Jaggery and Sugar are made from sugarcane juice, but its processing which makes one different from another. The formation process begins with boiling, and the syrup is further treated to give clear- transparent sugar crystals. In the jaggery formation process, the syrup is boiled for several hours, and a thick paste is placed in the mold to get a firm shape. Jaggery still undergoes some processing; nevertheless, it is less when compared to sugar. So, if you're looking for something that hasn't been under much processing, jaggery might be a good pick.
Nutritional Values: Jaggery has a fair amount of Iron, Magnesium, Potassium, and Manganese. These are present in an almost negligible amount in sugar (thanks to all the processing it undergoes). So, if you want something that can help you fix your sugar cravings with a good dose of nutrition, then jaggery might be a good pick. It may likewise contain modest quantities of B vitamins and minerals, including calcium, zinc, phosphorus, and copper. But, if you're picking it just for the nutrients it has, then there are plenty of other alternatives that are ready to help you get these nutrients at the cost of few calories. Check it's nutritional values below:
According to the source, 100 grams of jaggery may contain:
Calories: 383.
Sucrose: 65–85 grams.
Fructose and glucose: 10–15 grams.
Protein: 0.4 grams.
Fat: 0.1 grams.
Iron: 11 mg, or 61% of the RDI.
Magnesium: 70-90 mg, or about 20% of the RDI.
Potassium: 1050 mg, or 30% of the RDI.
Manganese: 0.2–0.5 mg, or 10–20% of the RDI.
Despite all this, some impressive health benefits can convince you to appreciate this sweetness in your diet :
Prevents Anemia: It has 11 mg of iron per 100 gms, making it a good source of iron. No one will eat 100 gms of jaggery just for the iron in one go, but a tablespoon(20gms) of it provides 2.2 mg of iron, which can contribute a small amount of iron. There are plenty of other iron-rich foods that can fulfill your iron needs at the cost of a few calories. A small amount of jaggery in your dessert or tea can enhance the taste and health benefits.
Immunity Booster: It contains the right amount of anti-oxidants. In India, many a time, jaggery is added in tonics for its sweetness and anti-oxidant properties to treat various ailments. So, it can help you boost immunity and is better than white sugar, which provides empty calories. Remember that both of them have the same amount of calories.
Improves Digestion: It enhances digestion and can prevent constipation. In India, people mostly prefer a piece of jaggery after a meal. So, jaggery is a better sugar substitute to satisfy your sweet cravings after a meal. It is also
Final verdict:
Jaggery or Sugar, it still contains an equal amount of calories.
Jaggery is slightly healthier than sugar in terms of nutritional values, but many other sources can help you get those nutrients.
You can add jaggery in your sweets to enhance their taste and nutritional value. So, it is a good sugar substitute in that case.
If you're looking for a low-calorie sugar substitute, then jaggery isn't the one. Both of them have equal calories. It's better to have them in moderation.
Try to get your nutrients from real food rather than relying on a sweetener. You'll be able to complete your nutrient requirements at the cost of fewer calories.
Get yours from Amazon: