Our bodies don't come with an alarming system to help us know if we're satisfied or stuffed. But, if it does, our major unintentional overeating problems would have been resolved.
When it comes to food, there should not be any fear or regret. After all, it keeps us moving, so there should be joy and balance. We always value a balanced diet, but how can we do that if we can't see the difference between being satisfied or stuffed. There's a thin line between them, and we have to train ourselves to pause before stepping from the satisfaction zone to the overeating zone (stuffed).
Overeating is a decision; nobody is putting a gun on your head and forcing you to eat. 😛 😀
I have heard many people complaining about not recognizing the difference between if they are satisfied or stuffed. So they end up eating more than required. It is fair to indulge sometimes, but continuously loading too much to the level of discomfort will add extra calories, and you'll end up gaining weight.
Your short-term delight can have a long-term impact on your health. Don't give those comforts the power to play with your body. 🙂
Satisfied VS Stuffed:
We have no such alarms fixed in our body, but we have the most potent player by our side, and that's our excellent natural hunger hormones and brain. They both are responsible for controlling hunger. The only thing we need to strengthen is our mindful eating skills. Most of the crash diets or even the regular diet plans will only tell you what you should eat and in what quantity, in case you're consulting a diet planner. You can't maintain a healthy weight in the long term if you lack the skill of mindful eating. 
Know the difference: Hunger and Apettite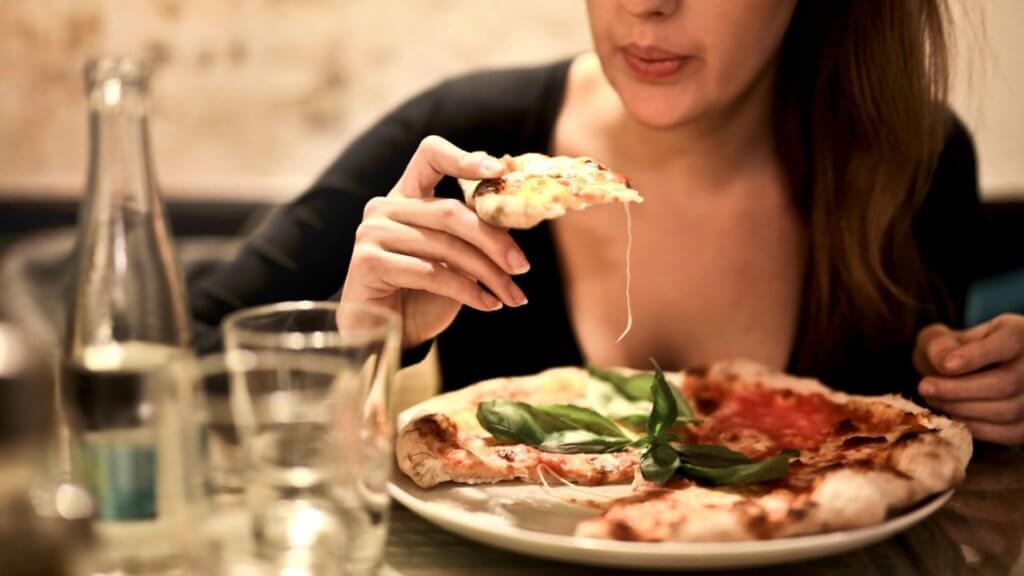 Hunger: Our body needs food to meet the basic nutritional requirements and maintain energy levels to function at its best, and that's hunger. Hints of physical hunger are headache, irritability, stomach growling, weakness, etc. You'll not look for something exceptional, and it's gradual.
Appetite: It's a strong desire to eat. It can be due to hunger or sometimes due to emotional and environmental conditions. Emotional eating can be due to feelings of being stressed, happy, upset, or even bored. Meanwhile, appetite can be because of the environmental conditions of passing by a bakery, sweet shop, or exposure to something that smells great. In both cases, you can experience the intense desire to eat even if you're not hungry. Appetite is usually food-specific and sudden.
If you look for something healthy while eating, you're probably hungry, but if you are craving the chocolate pastry you just saw while passing by, and you can't forget about it after a heavy meal also, then it's an appetite. 
Hunger is not responsible for weight gain, but your appetite is. 
Let's explore some tips that will help you keep your overeating in check:
Give your stomach and brain some time to coordinate: One should respect the food they eat, as it nourishes our body. So, don't go fast and neglect the virtue of good food. Put at least 20 minutes of your time in every meal of your day. Twenty minutes are needed to establish the connection between the stomach and brain and thus instate the "I'm satisfied and full" feeling.
 Chew slowly and give your body some time to absorb the nutrients. This will help you enjoy your meal and all its flavors. Chewing fast leads to overeating, as you'll feel hungry even after eating compared to the one who wants their meals leisurely. Enjoy your food and that too, without overeating.
Sit and eat: The habit of eating while moving here and there, while cooking, or driving to work can result in overeating. Don't forget that these small bites also add up in daily calories and cause weight gain. Sit and enjoy the meal rather than mindlessly munching the pack of chips or your favorite chocolate box. 
See if you're starving: Hunger and thirst give equally unpleasant sensations, making it difficult for the brain to know the difference between them. Most of us run for the snacks in the cupboard initially, but we may be thirsty. So, have some water first. 
Don't ban your favorite food: Some people ban their favorite food for weight loss. But, this will end up increasing your desire towards more of them. So, the best way here is to manage your diet plan and include your favorite food too. You can have them during cheat meals.
Don't sit with that container: Yes, directly eating from a container will throw the portion size concept out of the window. You are more likely to consume extra.
Don't get stressed: Stress can also induce overeating. You can eliminate through various activities like listening to music, gardening, dancing, meditating, etc.
Consume fiber and protein-rich diet: Subtle changes in diet plan can make a huge difference. Protein and fiber will help you stay full for longer.
Don't get distracted: Most of us prefer having meals in front of a computer, phone, or television. And this increases our chances of overeating. Focus on your food and portion size.
Eat regular meals: Not eating enough can cause overeating. Usually, people tend to eat less to lose weight. Skipping meals will drive you to eat extra later in the day as you'll stay hungry for longer hours. Smaller meals in a day will improve your food choices, reduces cravings and will also decrease your chances of overeating.
Every meal on your table is precious. Our only aim is to consume a balanced meal. No food is good or bad. It is about the choices you make.