All of us have different weight goals, and all of us look for many diet plans to reach our goals. But, few things remain constant in our diets, and paneer(cottage cheese) is among them. We can cook paneer in many ways, and our method of cooking, portion size, etc., largely determines the diet plans where it fits the best. But, apart from that, the nutritional value of paneer makes a significant difference. There's a look-alike Tofu(Soy-paneer or bean curd), which is trending in supermarkets for being a healthier substitute for paneer. However, choosing among the two is comfortable but tricky for weight watchers or someone who desires to achieve their body goals. Let's see how Tofu and paneer are prepared and their nutritional benefits.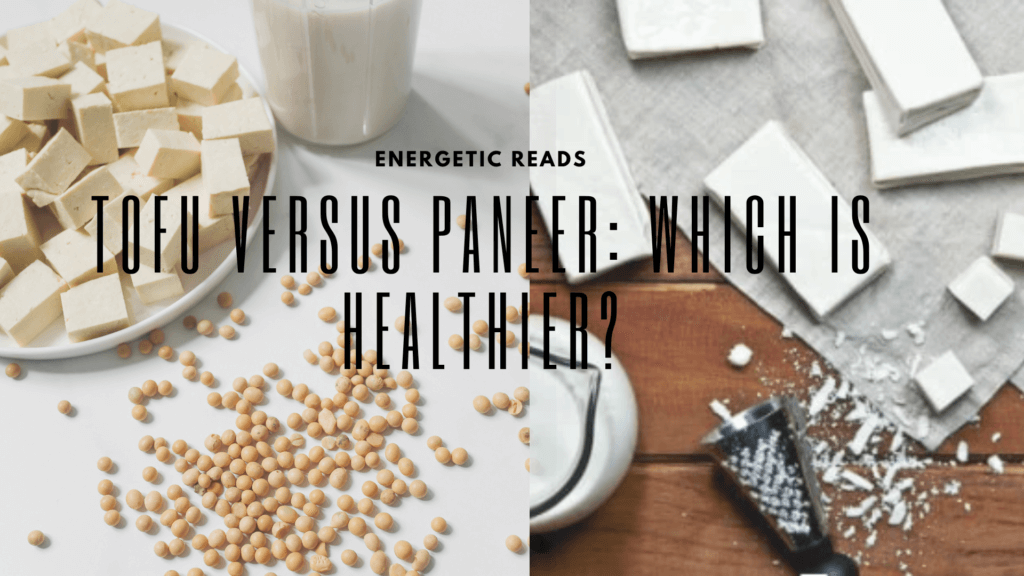 Preparation Method of Tofu and Paneer:
Tofu( Soy paneer or Bean curd): Tofu is made from Soy-milk. It is a vegan product as it is a plant-based product. So, it is a part of the vegan-diet and is a versatile product that can be used in various dishes. It is less perishable than paneer and is sold fresh or after processing. Thus, we can store it for a longer time in the refrigerator.
Paneer(Cottage cheese): Paneer is made from cow, buffalo, or goat milk. The milk is coagulated using sour ingredients like lemon juice. And, also sold fresh and used in many dishes. Paneer might have processed cream to soften the texture, which can contribute to the overall fat percentage.
Appearance:
Paneer and Tofu look almost identical, but there is a slight color variation, making it easy to differentiate between them. The paneer texture is very soft as it is made from full-fat dairy and has a high-fat content. In comparison, Tofu can vary from soft to firm and has a smooth silken texture. Soft Tofu might have the lowest fat content, which makes it easy to digest.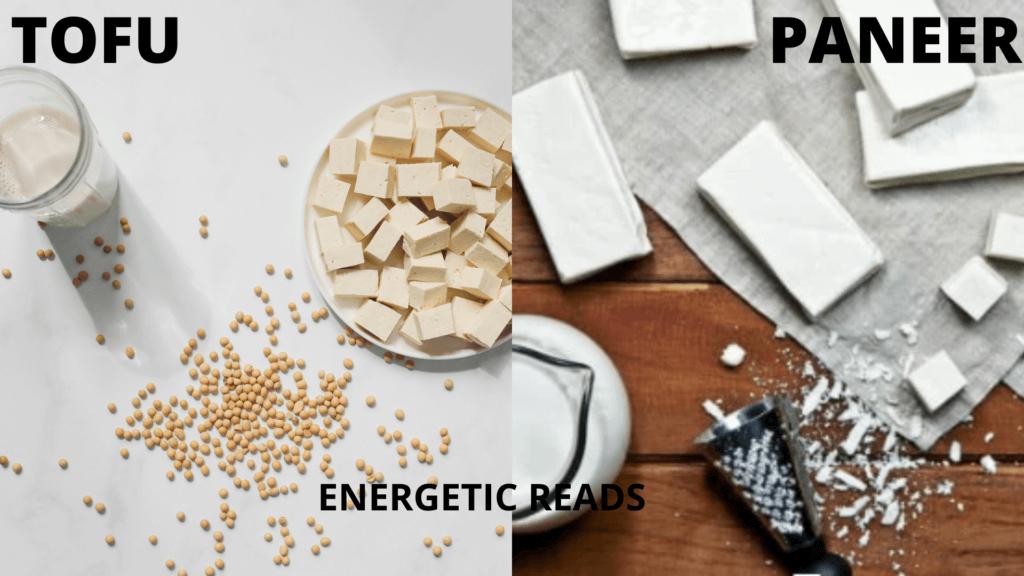 Nutritional Value:
The nutritional-value given below is per 100 grams, and it changes with change in your cooking methods. While counting calories, you have to make changes accordingly. The nutritional value below is for uncooked Paneer and Tofu.
Calories: Let's begin with the most common thing people look for, i.e., calories. 100 g of paneer has 265 calories, and 100g of tofu has 76 calories. The calories in two clearly show that tofu has fewer calories than paneer. So, tofu is a better choice if you want to stay in a calorie deficit and lose weight. Tofu won't contribute many calories to your total calorie intake.
Protein: One of the essential nutrients for the human body, thus it is always a great idea to include it in almost all your meals. 100g of paneer has 18g protein, and 100g of tofu has 8g protein. The protein content in both of them is almost the same. Both of them are a good source of protein for vegetarians, and tofu is the best protein source for vegans.
Make sure you don't overload protein in one meal and skimming protein at others. Spreading protein consumption throughout the day improves protein utilization in the body. And, this helps in reaching health and fitness goals.
Carbs: Carbohydrates are the body's main source of energy. And, they are also important to a healthy diet. It is always good to have them in a balanced amount. 100g of paneer has 2g carbs, and 100g of tofu also has 1g carbs. Thus, the carb content in both of them is the same.
Fat: It is essential to have some fat in your diet, but too much of it is harmful. 100g of paneer has 20g of fat, and 100g of tofu has 4g of fat. You can include paneer in your weight loss diet too, but tofu has less fat content, making it an excellent choice for weight loss.
Cholesterol: Paneer has 55 mg, whereas tofu has 0 mg cholesterol. So, tofu is a better option if you're looking for a low cholesterol diet.
Iron: The iron content of tofu makes it the right choice for people with anemia. Also, iron has many other benefits, and the primary reason we need iron is that it helps transport oxygen throughout the body. So, adding some tofu to your diet can help you meet the iron requirements.
Calcium: Paneer being a dairy product, is rich in calcium when compared to tofu, which is made from soy milk. Calcium is required for healthy bones and teeth and is essential for people of all age groups. So, paneer can help you meet your calcium requirements.
Final Verdict:
No food is good or bad; every food provides nourishment to the body. Anything in excess will create trouble, even if it's healthy.
For muscle building: Vegans who're looking for a good protein source can go for tofu. It can help them meet their protein requirements at the cost of a few calories. However, if you're NOT vegan, then you can eat tofu and paneer both. It is always the best option to have them in balance, so the choice is yours. You can decide based on your preferences.
For Weight Loss: Tofu is an excellent choice if you're on a weight loss diet. But that doesn't mean that you can't have paneer. You can choose anything based on your preferences. You have to stay in a calorie deficit for weight loss, so tofu makes it easier for you. If you have paneer, make sure that you balance your calorie intake.
For Weight Gain: You have to stay in a calorie surplus if you want to gain weight, and paneer makes it easy for you. You can have any of them and reach your calorie requirements.
Counting Calories: Calorie counting helps in maintaining, losing, or gaining weight. If you desire to keep track of what you eat, DON'T forget to count them based on other materials you add to it while cooking. This rule goes for everything we eat because our method of cooking makes a significant difference.
A quick tip: Eating healthy is not only about losing weight only; it's a lifestyle change that we make. It's more about making healthy choices every day. A game between tofu and paneer is more about your preferences. However, their nutritional values help us get a clear picture and make choices according to our weight goals.
Get them from Amazon:
If it's healthy, it still doesn't give you a license to have it in excess. Have a balanced diet, and enjoy what you eat.
This post contains affiliate links, which means we may get a commission if you click a link and buy something recommended. Also, please share this if you liked it. 🙂