With the drop in temperature, most of us witness a dip in our motivation to eat healthily and workout too. The holiday season is also around the corner, which gives us the reason to eat whatever we want without thinking much about the winter weight gain. Though one should not miss the winter workouts, the number of benefits it has can encourage us to step outside. But, eating anything without concerning much about its nutritional benefits can make all those hard winter workouts of no use. 😛 So, let's explore the Indian winter foods to keep yourself warm and healthy.
Too much of everything is bad for health, and this also goes for all the healthy food we eat. Moderation is the key!
Indian winter foods to keep yourself warm and healthy:
Ghee: Desi ghee can solve almost all your problems that one might face during the winter season. Just one tablespoon of ghee can keep you warm and healthy. Fat content in ghee can keep us warm and can also help us in maintaining weight. The fat in ghee helps the body absorb and use fat-soluble vitamins like A, D, E and, K. It improves eye-sight and digestion, provides muscle strength, and removes impurities from the body. Also, it helps in fighting dryness, which is most common during the winter season. Don't worry, and you're not supposed to overeat to enjoy these benefits. Just one tablespoon (15 g) of ghee is enough to keep you warm and your skin and body healthy. You can add it to your food and your favorite sweet dish. You must ensure that you should not exceed the prescribed limit of the total fat intake(including ghee). It can be added to almost all your dishes, especially during the winter season. One of the best Indian winter foods.
Dry fruits: They are great alternatives to salty and fried snacks. Roast them in ghee and sprinkle a little bit of salt to control your cravings more healthily. Also, include them in your sweet dish to increase the nutritional value. Dry fruits like almonds, cashews, pistachios, and dates are excellent Vitamin E sources and boost energy levels and brain health. Most of them, being rich in fiber, are helpful in weight loss and weight management. Add them to your cereals and sweet dish, or have them as snacks. Having them in sweet dishes like gajar ka halwa, panjeri, etc is a must during the winter season. 😛 Make sure to have them in moderation, as some of them are also high in calories.
Amla or Indian Gooseberry: In Ayurveda, Amla is extremely useful in preventing diseases as it contains a significant amount of antioxidants and vitamins. Being one of the great sources of Vitamin C helps in fighting illness, and the amla can also help you boost your memory. It improves digestion, immunity, eye-sight, memory, and brain health. Amla is efficient against dandruff and other skincare problems too. Fact: 100 grams of amla berries contains as much Vitamin-C as 20 oranges.
Tulsi and Ginger: Add this powerful combination while preparing your morning tea (you can put some black pepper too). Tulsi has anti-bacterial and anti-viral properties. And, ginger is good for the throat. Add the queen of herbs(tulsi) and ginger in your tea or kadha, and enjoy! They both will take care of you during the winter. Ginger can also be a part of your daily recipes. It will not only enhance the flavor but will also provide you various other health benefits.
Add lots and lots of vegetables: Vegetables should be a part of your diet, no matter what season. Having seasonal vegetables can improve health benefits, and they're also readily available in our local markets. Add vegetables like cabbage, cauliflower, peas, radish, carrot, turnip, spinach, Methi(fenugreek leaves), mustard greens(Sarson ka saag), etc. in your diet plan. Winters are incomplete without Sarson ka saag and Makki ki roti. They're rich in antioxidants, iron, dietary fiber, etc. Add them to your dal to enhance its taste and nutritional value. They can surely help you stay fit and healthy in winters. 
Have winter fruits: Fruits like grapefruits, pears, pomegranates, oranges, cranberries, pineapple, kiwi, etc., should be your first preference for buying fruits from outside. These seasonal fruits are better in fighting the health and skin problems that we might experience in the winter season like cold, cough, dryness, etc., as they are rich in vitamins, minerals, antioxidants, etc. Add some of them to your diet to reduce sick days and stay healthy. 
Jaggery or Gur: Winter season is the best time to consume jaggery( gur) as it has hot potency(Taseer); that is, heat is generated during its metabolism. Each gram of jaggery provides four calories, thereby producing heat in the body. Blood vessels get constricted during the winter season due to cold weather, so jaggery can help you dilate the blood vessels and improve blood flow. You can have a small piece of it after your meal, as it can improve digestion and can even satisfy your craving for something sweet. 😛 You can add jaggery in sweet desserts and pudding to enhance their nutritional value(calories are the same as in sugar). Remember that jaggery has the same amount of calories as sugar, so consume it in moderation.
Peanuts: " If something comes in the list of healthy food, it doesn't mean that you can have it in surplus. " Peanuts are one of the healthy snack alternatives in winter and can be consumed in different ways. They are a good source of fiber and protein. One hundred grams of peanuts have 567 calories, 8.7 grams of fiber, and 25 grams of protein, making them an ideal choice if you want to maintain weight or lose weight. Peanuts are low in carbs(16 grams) but are high in fat(48 grams), which can cause weight gain if consumed in excess. Have them in moderation to enjoy their benefits. It is versatile and can enhance the taste of your food. From being a part of something spicy (chutney, poha, or chat) to the sweet dish(laddu,chikkis, peanut cookies), this superfood gives sufficient room for experimenting to make mouth-watering dishes.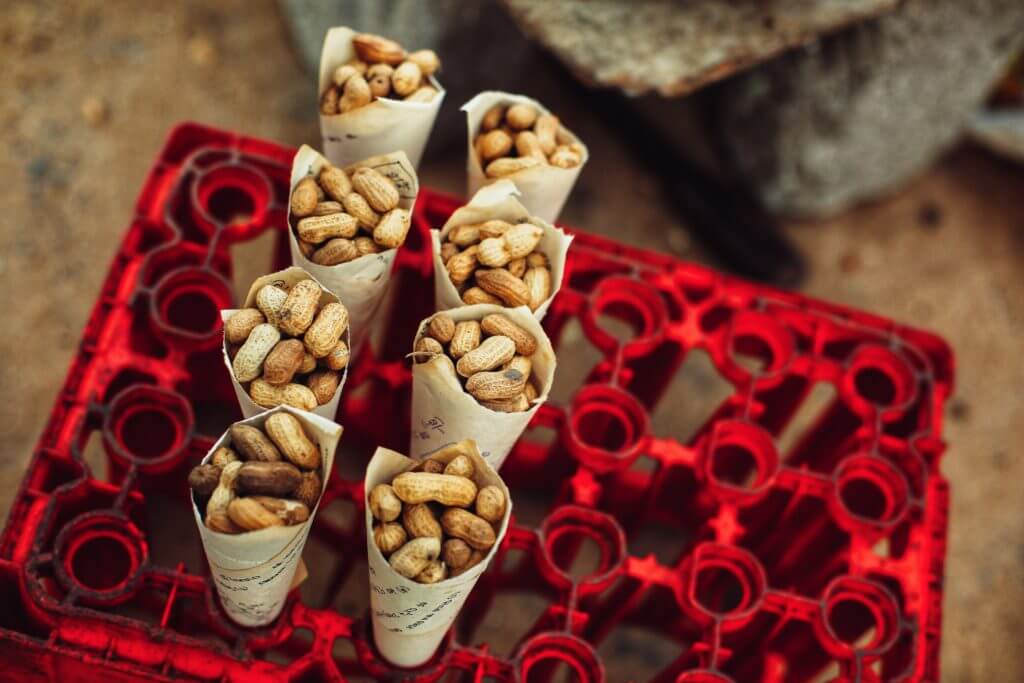 Sesame seeds(Til): Sesame seeds are available throughout the year, but winter is the best time to consume them as they are rich in good fats and are hence naturally warm. Most of the foods consumed during winter festivals like Lohri or Makar Sankranti have til seeds in them. They are great for hair, skin, bones, digestion, immunity, etc. Also, sesame seeds help maintains mental well being as it contains tyrosine, which impacts serotonin activity, a neurotransmitter that affects the mood. Thus, they can also help in dealing with the seasonal affective disorder(SAD).
Water: This is not something specific that you should have in winter, but it is here on the list as a remainder. Our water intake usually decreases in winter as we don't feel thirsty, which can cause dehydration and contribute to weight gain. But, it is essential to stay hydrated during the winter season too. Make sure you keep yourself hydrated. Herbal teas, warm soups, water-based fruits, and vegetables can help you stay hydrated. Also, exercising in winters can be another reason to drink water and thus completing the water requirements.
All these Indian winter foods will help you stay fit. But, make sure you have them in moderation. Stay within your daily calorie requirements and stay healthy.